Making Music
Music has always been made in one way or another at Thamkrabok. It was only in 2003 when
Luang Por Charoen Parnchand invited me to record my first solo album there that the idea of a studio
was introduced at the monastery.
There is, in fact, a vast array of traditional Thai instruments, acoustic guitars, an electric guitar, a drum kit, an electric bass,
several Apple Emac computers running Logic Audio on OS X and a couple of MOTU Audio Interfaces
(for non musos, that means you can record your music!). There are also lots and lots of microphones and keyboards.
The equipment has been donated by followers over the last four years or specifically asked for by Luang Por upon
mine and Peter's advisal, who have, between us, tried to teach and asisst the monastery in its musical endeavours.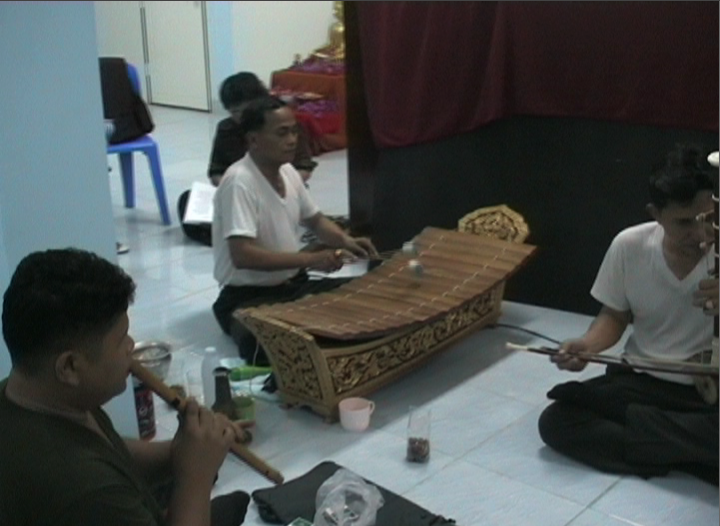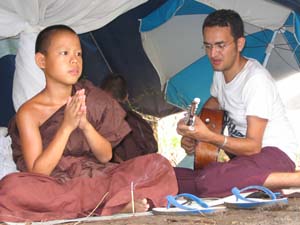 There is also a large studio block with three floors that has been dedicated to making music,
not to mention the temples in the monastery grounds which have beautiful acoustics.
With regards to activity, there are several monks who work to produce Luang Por's music on a regular basis
(both his songs and Laisen) and musicians who are devoted followers that come to record, such as the Sak Chai Ensemble.
There are also some popular Thai music stars who contribute to the music from time to time.
What there is a need for is more engineers and producers.
It has often surprised both myself and Peter that there have not been more Western musicians visiting the monastery,
mainly because it's a beautiful place but also because,if you are a musician or producer, everyone at Thamkrabok would be delighted
if you wanted to come and make some music. Try to remember that as a guest at Thamkrabok,
you'd be well taken care of, you'll make lots of new friends, you'll have access to the internet and generally have an incredible time just by sharing
what you know about music with the community.It's not a place where you are expected to 'do' anything other than
try to fit in with the place and maybe help produce some of the music that is being made there.

Basically, there is a huge vacancy for someone if you'd like to be involved in contributing musically in any way.

If you are interested, please don't hesitate to contact either me (tim@thamkrabokmusic.com) or
Peter Radcliff (peter@thamkrabokmusic.com).
We'll be happy to tell you anythng you need to know about staying at Thamkrabok and making music.
Oh, and we always forget to mention this - it doesn't cost any money to visit, stay and help with the music.